#covid19in20s
Updated on 3/26/2019
This is Scott Ge, living in Seattle. Two months ago I left my 12-year career at Microsoft and started this Smartable AI effort to fight the "infodemic" problem occurring with COVID-19. I have personally observed a friend going through the treatment and how fast the virus is spreading. I believe in the importance of clean and credible information to help people be alarmed and get protected.
I created this technology to collect information from more than 100 credible sources, and turned them into a clean stream of data. Some of these data sources have delays; some make breaking changes from time to time.  I have gone through various pains to aggregate and cross-check information so you don't have to. With this technology, I am able to set up a daily drop of "US Coronavirus in 20 seconds" – It is a daily updated 20-second GIF showing the COVID-19 spreading and control in the United States.  The GIF in this URL gets automatically updated every night at 10PM (PST/PDT).  You can also check out our close-to real-time coronavirus stats here.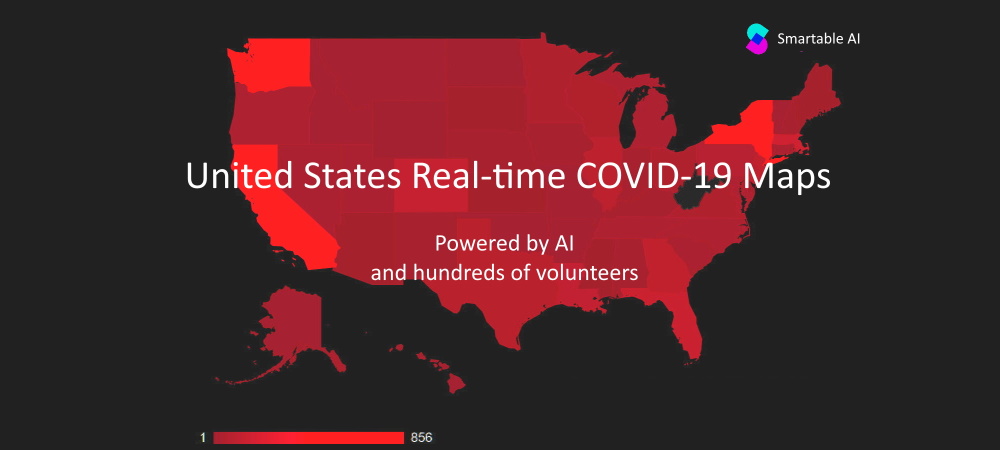 To further democratize the information, we offer our data through a FREE API. In less than 48 hours after the API announcement, more than 100 people signed up the free API key including researchers from Google as well developers from news media.
"We're not just fighting an epidemic; we're fighting an infodemic" – WHO Director-General Tedros Adhanom Ghebreyesus.  I wish people can benefit from the effort here.  Please suggest improvements in the comments section.